Get Crafting at Mill Meadow – 5 reasons why crafting is good for you!
Why get crafting?
With crafts, you don't harm your body but get relaxation and health improvements. It has been proven by various studies that with the help of paper, scissors, markers, and other art supplies, people can improve their mood, and this can positively affect other aspects of adult life.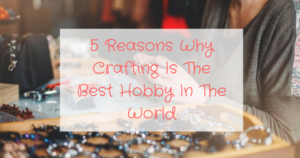 1. Crafting Helps You Avoid Anxiety And Depression
Consider that the rate of depression in industrialized nations has increased tenfold over the last 60 years. That steep rise coincides directly with rapid technological advancements. Meanwhile, the Amish communities in the U.S., who create almost everything they have by hand, have very low incidences of depression.
2. Crafting Is The Catalyst Of Happiness
"It helps you concentrate on what's in front of you and distract you from everyday pressures and problems."
3. Crafting Is Good For Your Brain
Self-expression increases your brain activity and when you start creating, you stimulate the somatosensory and motor cortex of the brain.
4. Crafting Gives Meaning To Life
"There's something about putting together something by hand, whether it's needle crafting, beading, woodwork…"
5. Crafting Helps You Become A Better Person
"Crafting gives you happiness, good health, and creativity. It also helps and lifts others. If you are happy, healthy and not stressed out as you create, you become more patient, generous and kind to other people."
Click here to read the full article
Crafting with Elaine at Mill Meadow in our peaceful countryside setting is a true escape from everyday life and its FUN!!!!!