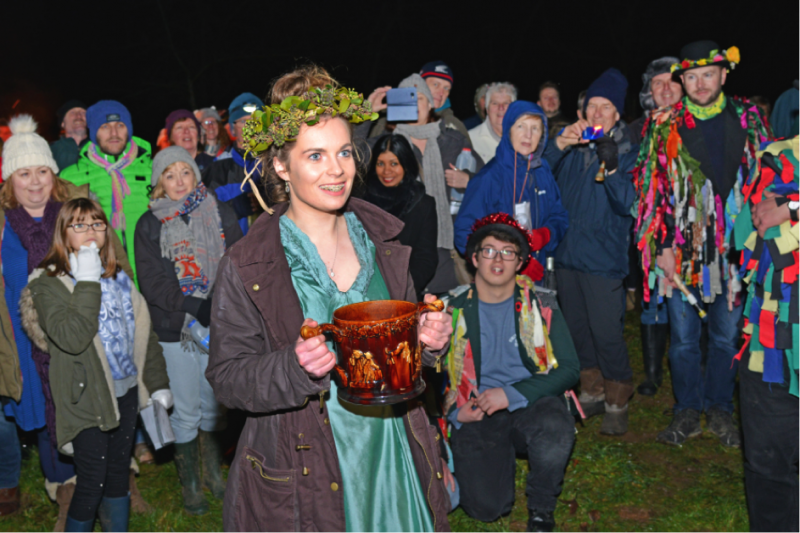 "Be well and be healthy" in 2019
If you are in Somerset this January and a cheery crowd shout out "waes hael" be sure  to reply with equal vigour "drinc hael".
A few words of old English that are still part of traditional Wassailing an ancient custom that involves drinking cider, singing to the trees in the hope of a good harvest and scaring away evil spirits. "Waes hael" (be well) was shouted as a toast at festivities in the darkest days of January as far back as Saxon times with the reply "drinc hael" (drink and be healthy).
There are many types of Wassailing traditions (most involving hot spiced alcohol) but the most important (for cider-makers at least) is wassailing their apple trees in a noisy night involving food, fires, dancing and cider.   
Once complete, a piece of toast soaked in cider is hung on the branches to attract the good spirits (sometimes personified as robins) and cider is sprinkled around the roots of the tree.  
Wassail Events accessible from Mill Meadow this January:
17th January 2019 – 5.30pm to 9pm        
Sheppy's Cider, Taunton TA4 1ER  –  The Taunton Deane Morris Men celebrate the ancient ritual of Wassail at Sheppy's Cider with food, fires, hot irons & cider.  Chanting, dancing & shot guns are also involved, so looks to be a noisy night working to ensure the next harvest is a good one.  In support of St Margaret's (Somerset) Hospice, admission includes pulled Longhorn beef roll (or vegetarian option). Bar, Tea/Coffee available.
https://www.sheppyscider.com/events/sheppy-s-cider-wassail-2019/
18th January 2019 – 7.30pm until Midnight 
Rich's Cider Farm, Watchfield, Somerset, TA9 4RD  – With music from The Skimmity Hitchers & Bob Darch music, the evening is described as a 'traditional Somerset frolic' and costs £7.50, with proceeds to St Margaret's Hospice Care & Local Charities.
https://www.richscider.co.uk/2018/11/12/wassailing-tickets-now-available/
19th January 2019 – Tours of the Tor 2pm to 6pm
Avalon Orchard,  Glastonbury Tor, Somerset BA6 8BG  –  The National Trust continues the tradition of wassailling in Somerset, welcoming the druids of Glastonbury, the town crier and storytellers to host a Family Wassail event 'full of fun, song and cheer', plus free activities and storytelling from 'Time and Tide tales'.  There will be a chance to tour the Tor and learn its mythical history, sing around the trees, hear stories by the fire and sample the juice of this year's crop.  Entry, £3 adult £1 child (5-16).
https://www.nationaltrust.org.uk/features/enjoy-a-somerset-tradition-