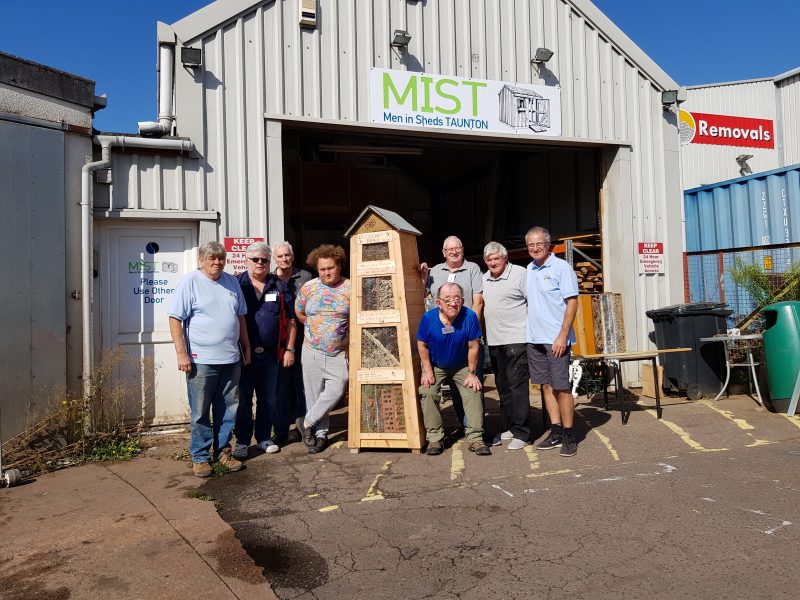 Latest Addition to Mill Meadow Accommodation
Thanks to Men In Sheds Taunton (MIST) we have a new addition to our accommodation at Mill Meadow, "Bugingham Palace".
The resourceful and creative crew at MIST recycled unwanted materials to create a luxury bug hotel to compliment the human options at Mill Meadow.
After a discussion with Mill Meadow General Manager Chris Heayns, the MIST team got to work and what an amazing result.
"Its better than I could have hoped for" said Chris " and we have installed it within our newly planted orchard and wildflower area where it has already attracted its first guests".
"The MIST team also provided a number of smaller bug homes that have been placed around Mill Meadow and we will certainly be looking to commission more of their creative work in the future".
Facilitated by Taunton based Compass Wellbeing, Men in Sheds is a place where men can come together, build things, get involved in community projects, have a cuppa and most importantly socialise. Men in Sheds brings together the men in the local community and gives them the chance to learn new skills or to pass skills on to others.
Click here for more information on MIST and the other activities of Compass Wellbeing.