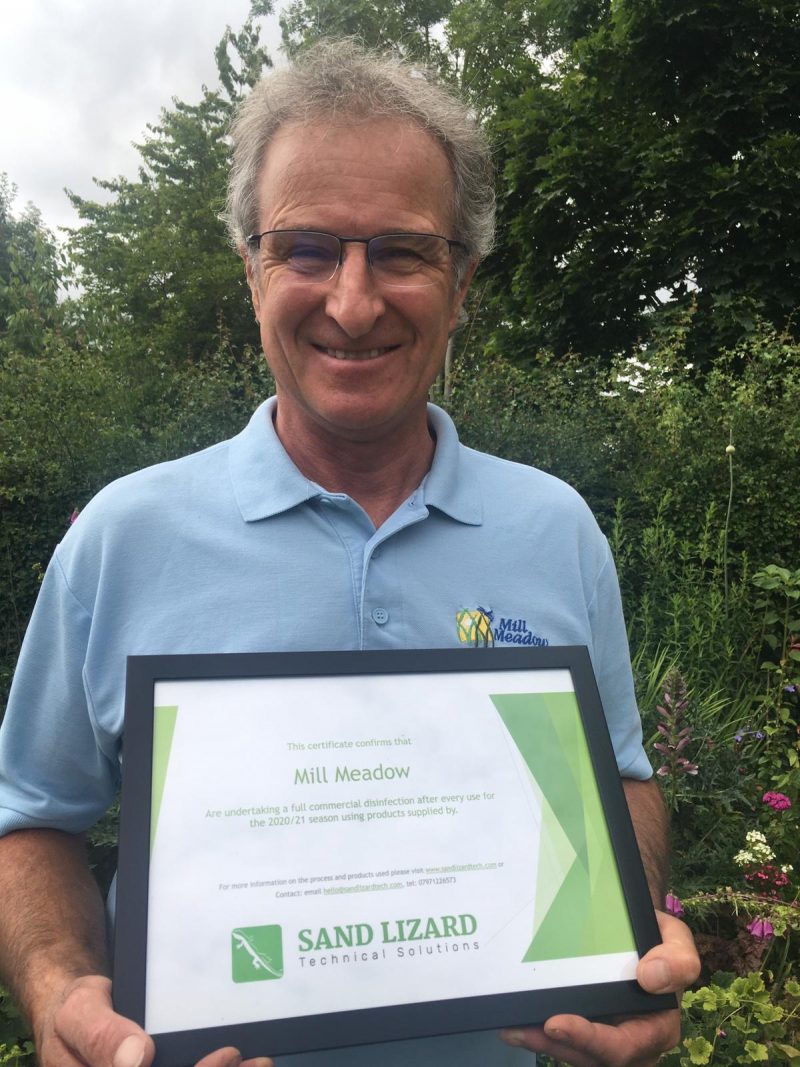 Close to a Safe Reopening
We have already completed so much as we journey to a safe reopening fro tourism.
However today was a milestone moment on that road to a safe reopening as we received the training and fogging equipment from our valued supplier and advisor John Burfield of Sand Lizard Technical Solutions.
Sand Lizard Technical Solutions are helping us to achieve even higher levels of disinfection and create as safe and clean an environment as we can in your accommodation.
Why do we need to disinfect?
Disinfection is different from cleaning.
Cleaning = the activity of making things clean, in a domestic or commercial environment.
Disinfection = the process that effectively kills or eliminates disease carrying microorganisms and prevent infection.
At Mill Meadow we will now be using the "most advanced silver stabilised hydrogen peroxide disinfectant" which is  "a highly effective virucide that destroys Coronavirus (2019 -nCov). Simply fog or spray the disinfectant onto surfaces for fast and effective protection."
We will be employing a combination of fogging and hand spraying to achieve the most effective level of disinfection we can and its SAFE in fact its safer that anything we have used pre covid.
"Once applied the disinfectant breaks down into water and oxygen leaving no toxic residue."
We are confident that by adopting the Sand Lizard Technical Solutions recommended process we are achieving the highest levels of disinfection available to the accommodation sector.
The added benefit is that as a result we are able to dispense with the wider range of more aggressive cleaning products and create a more hypoallergenic environment.
Personally with 30 plus years of spray application behind me this was a very easy choice and the application process is a very familiar one.
I believe that if you can access the best solution there is then why settle for less and we believe this process is the best available.
In terms of our Covid Compliance and the fight against the virus this really is a landmark moment for Mill Meadow and the most significant step forward on our journey to a safe and secure Mill Meadow for our guests and staff.
Chris Heayns
General Manager
Thank you to…

For more information and FAQS please visit:
Sand Lizard Technical Solutions